Bat sampling is risky, not risky, risky, not risky..
Actually Shi Zheng Li explained it herself very clearly:

drive.google.com/file/d/10a1Y4e…

Translation:
docs.google.com/document/d/e/2…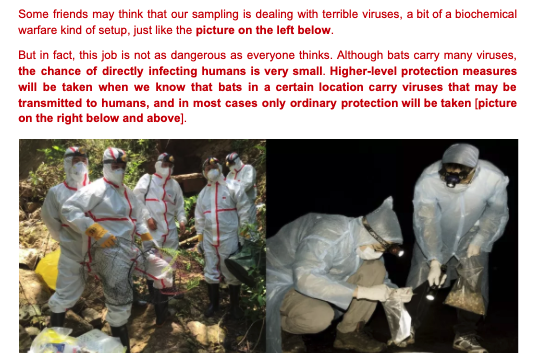 "Higher-level protection measures will be taken when we know that bats in a certain location carry viruses that may be transmitted to humans, and in most cases only ordinary protection will be taken"

Hence the two pictures.
How do they know that the viruses cannot be transmitted to humans in some places without regular sampling and despite possible population changes due to human encroachment?

Not sure. I guess they are the experts.
Anyway you can also ask Lin Fa Wang who seems pretty relax about it:

fortune.com/2020/02/20/cor…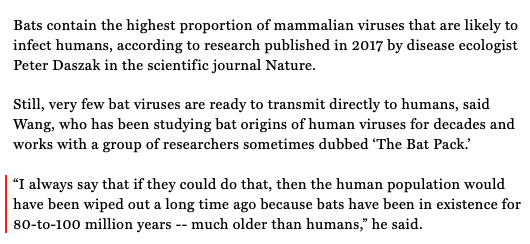 And the sampling team of the WIV does not seem too bothered either. That was in Dec 2017:

luoow.com/dc_tw/104502605


So it's all good. Trust us:

"In addition, the ability to prevent and control SARS and other diseases is not any more what it used to be, so the possibility of a pandemic is very small. ." (WIV, Dec 2017)

@threadreaderapp unroll
Wait, wait.
Because when you need money for your project, then clearly the risk is much higher.

See this scenario of USAID-PREDICT EHA that concluded that there is a 96% risk of pandemic from BatCoV infection via bat guano collection in 2014.
bit.ly/3r8GeTz


The interesting bit is that the Mojiang mine accident that happened a year earlier is never mentioned either in the bat guano paper from Supaporn, Olival (EHA) and Epstein (EHA) et all.

doi.org/10.3201/eid190…​.
Anyway it must have been a bat guano epiphany. Nobody knew about the Mojiang deaths I guess.

Thanksfully DARPA had stored some bat guano from that famous Thai bat case in 2006-07 so EHA and Supaporn were able to write that epiphany paper in 2013, one year after Mojiang.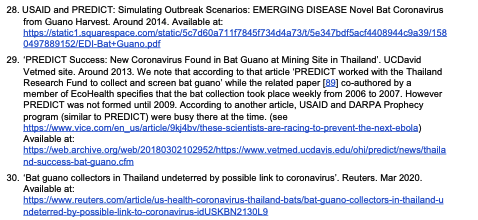 The Thai monks must have been wondering what that 96% risk of pandemic was all about though.

They have been collecting bat guano in that cave every week for many years to sell it as fertiliser without any accident.

Depends whom you talk to, I guess.

reuters.com/article/us-hea…